Not too long ago, I was actually shopping at one of the well-known pet "megamarts" in Singapore with my little Japanese Spitz, Yandao, like most other fur-parents. No doubt the shopping part was fun, but alas, the carrying of dog food, together with huge, bulky accessories proved really painful… especially when you're not driving!
I came to know about them just a few days back, and wow, did they have the largest inventory I've even seen in an online pet store.
True, they're not the *only* online pet store in Singapore, but I dare say they have the widest variety of products and arguably amazing prices. Plus, their free delivery quota is only $60!! I don't really think its feasible for a pet store to ask for a minimum of $200 unless you're stocking up daily staples such as food(kibbles?) and pee-pads(if your little furry ones do it indoors), etc.
You know especially… on some of the days when you're a good mood to spend a little extra cash out of the sudden or feel like getting little surprise for your furkid(s). Or else it's kinda a challenge to "hit" when you're just trying some stuffs. ?
..and, the best part was, they're *all* about the freebies. You know how it gets awkward at the pet shop counter when you have to point and ask for a specific "free" item? Not anymore! There's basically a whole section of freebies which you can grab all you want from in Kohepets, too!
Ta dah!
Here's what was inside the package (which was of course, delivered by Kohepets' really friendly delivery guy!~):
50% OFF: Primal Freeze-Dried Turkey & Sardine Formula Grain-Free Dog Food 5.5oz
Hey, what? There's a 50% off for Primal freeze-dried dog food? Primal is basically one of the best brands in freeze-dried dog food, and even the most picky of dogs love their freeze-dried dog food which is like, super healthy and good for your furkid! Omg what a steal!
..and of course, Yandao loves his plushies, so I got a bunch for him as a "reward" of sorts for being cute: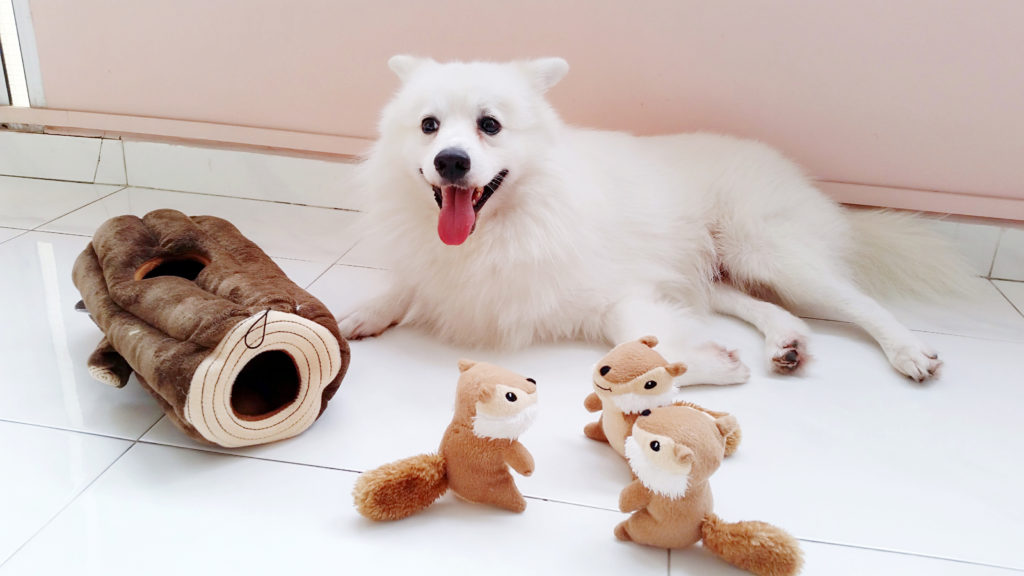 Just in case my little spitz was feeling toothy – but I wanted to try something without Rawhide this time:
I also added a bunch of free samples, well, just because:
 Free Sample – JANP Miso Chicken Chips With Cheese Dog Treats 100g
Free Sample – Whole Life Originals Freeze Dried Chicken Cat & Dog Treat
Free Sample – JANP Miso Soft Chicken Slice Dog Treats 100g
Flexi Vario Leash
I've also had a Flexi Vario leash previously, but was looking to give it a little "upgrade", hence I got these too:
Flexi Multi Box (Anthracite) – a really cool multi-purpose addon box to the leash which fits nicely and holds either poo bags or treats!
Flexi Vario LED Flash Belt – I often take Yandao down for night walks, and always had to bring a torchlight with me to shine into the grass in case of dog poo! No more!
Now, we could take him on long walks much more easily in the evenings! No more fumbling with poo bags in pockets, or an extra torchlight! This was truly a useful leash after upgrading it to its full potential.
Oh, and guess what Yandao did after his walk?
Shopping at Kohepets has been a rather hassle-free experience! Their site is extremely user-friendly, and more importantly, delivery was blazing fast. Of course, having a huge inventory meant that I could get all my pet supplies under one roof. Super convenient!
Do check them out at http://www.kohepets.com.sg 🙂
XOXO