I searched high and low, and tried ways and means to get my hands on this highly My Scheming Beauty 我的心機 Blackhead Removal Activated Carbon Mask product from Taiwan!
There are sellers selling online on website like Amazon.com and Q0010 but the price was inflated by A LOT – an average of SGD $20 above for ONE box.
The retail price in Taiwan beauty stores would be NT 399 (about SGD $18) and there's even 1 for 1 promotion which makes each box cost only SGD $9!
9 BUCKS!
You could almost buy 3 boxes! And you don't have to worry about fake China imitations (which are damn sky high due to the popularity boom of this product) *Auntie mood on*
Remember how ridiculous the counterfeiting for My Beauty Diary Masks to the extend that many people came up with videos and posts how to spot the fakes every now and then?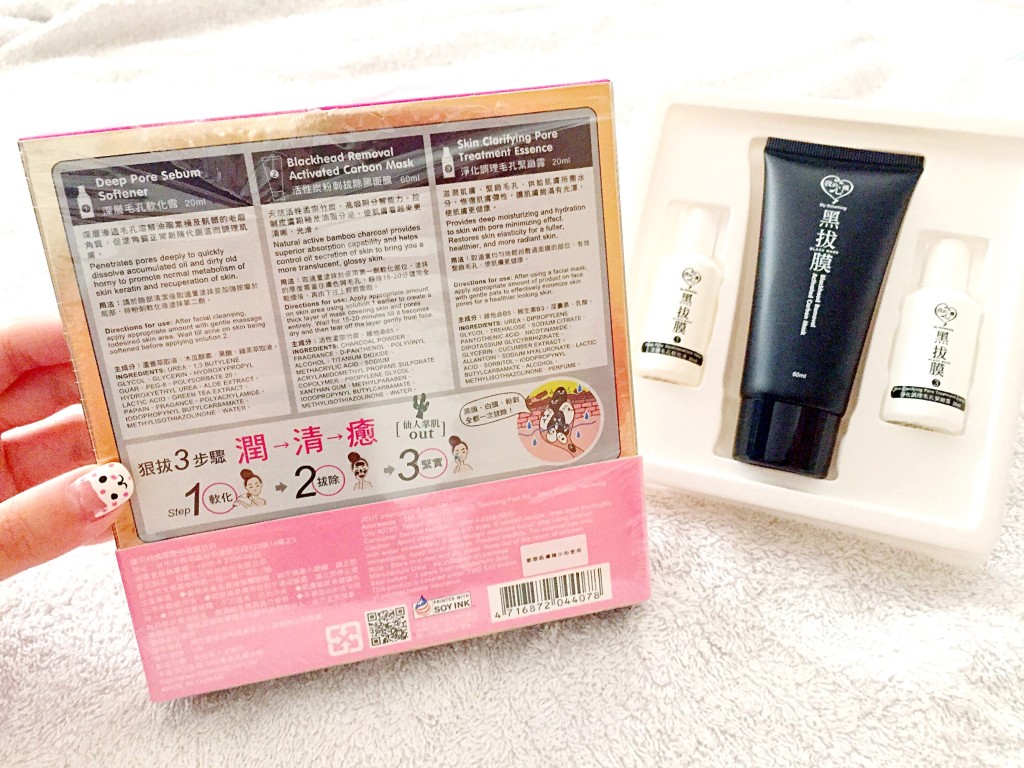 Let's skip the part of how much effort I went through to get this product…. One of my friends finally got it for me after searching a few beauty outlets in Taiwan.
Like I've mentioned, Taiwan beauty stores always had extremely good promotions such as 1-for-1's. Too bad this was the last box in store so for the free item she grabbed the white one instead (which doesn't work as well according to my friend).
I need to confess though:
After all the trouble of getting it, I took quite a while before I decided to try it out today because I had nothing to do at home.
*blush*
Even after all the madness rave reviews and videos online, I expect it to be good – but just how good???
*drums roll… ….*
WARNING: Photo as evidence below of the peel-off mask. [Please skip if you think you might feel uncomfortable (or if you're having lunch now)]
Holy cow! I expected it to be good but I didn't expect it to be THIS GOOD! I spent at least a good 1 minute looking at it and sending this photo to my friends in different Whatsapp conversations sharing the joy. LOL!
K thought it was seaweed sprinkled with salt. *wtf! -.-*
I realised that some people especially those who can't read Chinese have difficulty using this product and of course, leading to nothing but disappointment when they peel off the mask. So, because I'm nice like that, I'm gonna write down my steps here.
Step 1: Cleanse your face and apply the softener (left, no.1). After which, I kept rubbing the softener on my nose until it's almost dried up.

Step 2: Wash the softener away with water, For me, I did not pat dry and simply just applied the pore mask generously (center, no.2) on my nose.

Step 3: After the mask dried up completely, peel it from the bottom-up. For those who don't understand, it basically means start peeling from your nostril a.k.a 鼻孔 all the way up to your nose bridge.

Step 4: Rinse with water. Pat dry. Apply the toner (right, no.3) by patting it on your nose.
Done!
You can refer to the following video for reference too. She pat dry her nose a bit before applying but I feel it quite redundant because the excess water will run down your nose so if you pat it away, you're removing the reminding water that is needed for the mask on your nose. Not sure if you get what I'm saying…

When I was done with everything and putting back the product back into the box, this fell out…
… the instruction guide on how to use the mask. LOLLL!
Anyway, it's quite lengthly and the time consumed is longer.
Not forgetting you still need to use cotton pads. So I'm still gonna stick with my fuss-free method since it works as well with the most minimal effort. *lazy beauty tricks*
XOXO